The 101 Greatest Sales Tips EVER!
For more information about
The 101 Greatest Sales Tips EVER!
CD #1
What is your best sale ever?

Where is your focus?

Show your favorite piece . . . every day.

How to sell from the window.

Is a statement also a question?

5 ways to build your business every day.

Add-on sales and why we don't use them.

Close the sale with a story.

3 reasons why we don't T-O and what to do about it.

Are you a mind reader?

In the doghouse now.

How to create a sale from "just looking."

4 C's for men!

5 bad words we use every day.

Exceed your customers' expectations every time.

The 6 magic words of selling.

3 quick questions guaranteed to sell an anniversary gift.

The bridal add-on sale.

The engraver close.

Don't tip your hand with your business card.

Regain the focus

Educating the buyer.

Objections related to price.




CD #2

Showmanship . . . dead or alive.

Customer says to you . . . "I'm not interested."

The customer says . . . "This is the first store we've been into."

Product knowledge – what it is . . . how to use it.

"I have to think it over."

Objection or stall . . . use the echo technique.

Clink! Clank! Clunk!

How to sell an ugly dog!

2 negative words we use each and every day.

How to handle "What is your best price?"

How to stay in touch with your customers.

Don't tell . . . just sell.

Exceeding customers' expectations.

The 6 magic words of selling.

Become the romance adviser.

3 points of fear every customer has.

First impressions . . . do they mean everything?

How to establish an appropriate dress code in your store.

Rejection by whom, what, and why?

Are you catching all the buying signals?

Verbal buying signals frequently missed.

Use your knowledge wisely.

Bring joy and value to each customer.

Don't make price a negotiation.




CD #3

Getting the most out of sales training.

Are you unique and different?

Perform at your best . . . always.

5 keys to being a better listener.

How to cripple a sales career.

Is your focus out of focus?

Prove what you say or do.

What is your "budget?"

Keeping yourself motivated . . . every day.

How to beef up your training.

The woes of discounting.

Last ditch closing techniques . . . what they are and how to use them.

Take the customer's temperature (last ditch close).

Price versus value – you've heard it . . . now use it.

How to quote the price to a customer.

Creating your questioning plan.

Success . . . what it is and how to get it.

Anything worth doing is worth doing . . . poorly!

Don't ask for the sale . . . assume the sale.

Have you ever talked yourself out of a sale?

Stop selling diamonds . . . NOW.

When the big sale gets away . . . what to do.

Selling in the past, present and future.

5 phrases you can use for better customer service.

Handling objections through agreement.




CD #4

Back to the basics.

The danger of prejudging.

Don't stress out over a lost sale.

Going . . . going . . . gone!

What customers want . . . and what customers don't want.

The cell phone . . . how to quickly kill a sale.

"Can I show you something?"

The custom design jeweler.

Are you unique and different . . . how?

Huh?

Selling colored stones.

Entice people to buy . . . NOW.

Get them talking.

Building a valuable database.

The real experience in your store.

Small sales happen . . . big sales are created.

Product – process – purpose.

Use your diplomas to sell.

Overcoming objections from internet surfers.

How well do you know your customer?

The price value relationship . . . very important!

You have the technology . . . now use it.

How effective is your networking group?

What did you like about what you did?

You've got to believe it to achieve it.

Creating a sale from a repair.

Perception versus reality . . . so important!

Why people buy.

Customer says "How about a discount?"
Now Available in CD or MP3 format
$97.00 (4 CDs)


Shipping and Handling Charges for CD album will be applied at checkout.
Additional shipping charges will apply to deliveries outside the USA. You will be notified by our office of any additional charges that will need to be applied to your card to deliver to your location.
$97.00 (MP3)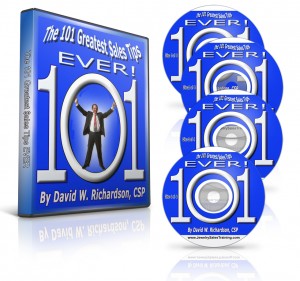 Jewelry Sales Training International
PMB 345, 8711 E. Pinnacle Peak Rd.
Scottsdale, AZ 85255
Toll Free: (800) 338-5831
Local: (480) 451-8808
Fax: (480) 451-9372